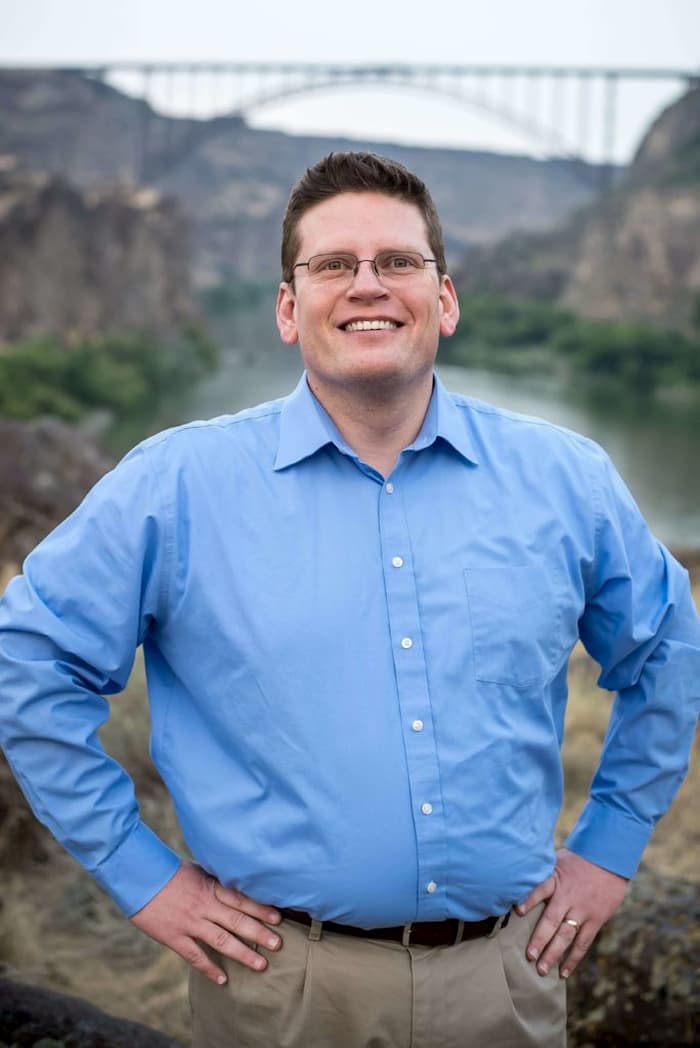 ---
Tyler Rands
Founding Attorney
---
---
Tyler Rands is the founding attorney of RandsLaw and is licensed to practice law before the State and Federal courts of Idaho.
Mr. Rands grew up in Fairfax, Virginia, in the suburbs of Washington D.C. It was there that he gained a love and interest in our nation's history—from visiting the numerous museums and monuments, walking the battlefields of Antietam, Manassas, and Bull Run, and visiting early colonial historical sites at Williamsburg and Jamestown. Mr. Rands loves all things related to history, but especially pertaining to the Civil War and World War II.
Music has always been a large part of Mr. Rands' life. In addition to singing, Mr. Rands plays several instruments and has participated in numerous choirs and bands, playing everything from jazz to blue grass to barbershop. He has been a member of several award-winning barbershop quartets.  When not spending time with his wife and six kids, you will find him singing.
Mr. Rands attended Brigham Young University in Provo, Utah, where he obtained a B.S. in Microbiology. He planned on attending medical school before changing course and attending law school instead. He obtained his law degree magna cum laude from Michigan State University in East Lansing, Michigan. Mr. Rands would soon trade the green grass and lush forests of the East for the rugged mountains and beautiful skies of the West.
Mr. Rands began his legal career as a law clerk for the Honorable Darrel R. Perry and later the Honorable John M. Melanson of the Idaho Court of Appeals. After his clerkship, he worked for a local firm in Twin Falls, Idaho for several years before opening RandsLaw.
Mr. Rands has been a presenter on contract matters as well as posthumous collections through probate both at local and statewide conferences.
---
Kirk Melton
Senior Associate Attorney
---
Kirk Melton began his legal career in 2011 clerking for then-District Judge G. Richard Bevan. Mr. Melton then spent several years as an associate for a local law firm in Twin Falls, Idaho, representing companies and individuals in a wide array of litigation matters before all levels of the Idaho judicial system. He has also assisted numerous clients with their business, estate, and probate needs. Mr. Melton represents a diverse group of clients, including homeowner's associations, landlords/tenants, businesses, insureds, and contractors.
Mr. Melton graduated magna cum laude from the Brigham Young University Law School, where he served on the BYU Law Review as a Senior Editor. Kirk also received his B.S. from Brigham Young University magna cum laude after serving a two-year LDS mission in Buenos Aires, Argentina. He remains fluent in Spanish. 
Mr. Melton is married with two children and one on the way.  He and his wife are very competitive in soccer, basketball, running, pickleball, and volleyball. They also enjoy snowboarding, camping, swimming, and being outside. In April 2018, Mr. Melton placed second overall in the "Falls to Falls" 5.2 mile run—an accomplishment of which RandsLaw is very proud. 
Mr. Melton assists clients in virtually all of their litigation needs.  He is licensed to practice law before all State and Federal courts of Idaho.
Michelle Morrow grew up in Twin Falls and loves the Magic Valley.  She graduated from Link's School of Business in Legal Studies and has been in the legal field since 1982.  After spending many years in the Phoenix area, she came home to finish raising her children and be near family. 
Ms. Morrow loves being a paralegal and being able to help others.  There is always something new to learn.  While she has worked in many areas of law, her specialty is in the areas of adoptions, collections and personal injury.  She has worked for law firms in Boise, Phoenix and Twin Falls. 
Music is a big part of Ms. Morrow's life as she sings, conducts choirs, plays musical instruments and has been a music teacher for many years.  When the warm weather hits, you will find her on the lake water skiing and boating with her family and friends or taking care of the many flowers in her yard.  She is married with three children and is also a grandmother.  Her goal in life is to make a difference in someone else's life every day.
---
---
---
---
---
---
Bethany Wakefield
Office Manager
---
Bethany Wakefield serves as the firm's office manager and handles all of the firm's administrative and billing needs.  She loves to interact with the firm's clients, so she insists on sitting up front and also acting as the firm receptionist—just so she can greet our clients with a smile and make sure they're having a good day.
Ms. Wakefield moved to Idaho in 2017 after spending the previous 13 years living in Mexico with her missionary family.  She remains fluent in Spanish and loves to cook authentic Mexican cuisine for the office—all while making sure that the attorneys don't take themselves too seriously.
---